Commercial
At Breisch & Crowley, LLC / BCdesignbuild.com we have been blessed with many symbiotic business relationships over the years. Our teamwork approach to architectural design has resulted in numerous award-winning buildings. We have come alongside our clients to create architectural designs that are then transformed into the solutions that they need for their businesses to succeed. For each commercial project we put together our full design team which often includes the Project Design Manager, Project Architect, Civil Engineer, Structural Engineer, and Mechanical / Plumbing / Electrical Engineers. We work seamlessly with our team of professionals to bring your project to life in a cost efficient and streamlined way.
Professional design and construction documentation are our specialties. We perform these services with integrity while providing open and honest communication. When you reach out to us we will respond in a timely manner to find out more about your project and how we can work with you to make it become a reality.
---
We LISTEN to our clients! This is a very simple statement and one that you would think we would not even have to emphasize here, but we have heard time and again from our clients that this is one of the things they appreciate the most about us. At Breisch & Crowley, we can't imagine doing it any other way.
For Commercial Projects we meet with you to find out more about your project, the scope of work and your timeline. We then define our project team which often includes the Project Design Manager, Project Architect, Civil Engineer, Structural Engineer, and Mechanical / Plumbing / Electrical Engineers.
Pricing for Commercial Project: After meeting and once we know more about your project and have defined our team, we can respond with a proposal to come alongside you and—through our teamwork approach—cooperatively make your project come alive. Many firms charge 8% - 12% for their work on commercial projects. We do not think a percentage based approach makes sense. Instead we meet with you to define the scope of work before forming our team, obtaining quotes from consultants, and then doing our best to determine how much time we will spend working on the project. We then put together a proposal, which often ends up being around 5% of the estimated construction costs but is almost always lower than what other firms charge. Our repeat clients tell us that we charge less money for a superior product. We believe this is based on a common sense approach to the project, rather than simply looking at it from a percentage of construction cost point of view.

---
Design Phase
By focusing on teamwork and by bringing the designer and contractor together early in the process, we work with you to help make your dreams become a reality. We can also work on your project utilizing the traditional Design - Bid - Build approach, providing the amount of detail needed by either our Design / Build partner contractor or the contractor of your choosing. With either approach we can assist by helping you to properly plan your project and ensure that the process from design concept to completed construction flows as smoothly as possible.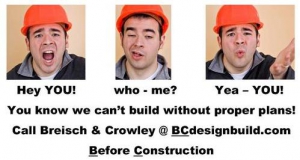 ---
3D Renderings
At your request, we can include beautiful 3D models of our designs, at additional cost, that provides an even more realistic vision for your project. Our 3D models help our clients to better visualize the end product. This leads to expectations being exceeded and clients that are most pleased. Click here to see some examples of the renderings we have provided to our clients.
---
Construction Drawings
As a composer creates a musical masterpiece, we create a work of art, an exclusively custom design for your project. The composer expresses their works in a written musical score using musical notation. The Construction Drawings are the tools of our trade. These detailed documents tell the contractor how to bring the design to life and make your plans become a reality! Click here to learn more.
---
Click here to see our many Award Winning commercial projects!
Click here to send us more information about your project so we can start working together to create something functional and fascinating!